by Babes
Christmas Day is getting closer and closer, for us draft nerds that is. The smokescreens are flying up in full force and teams are putting on their best poker faces.  I'm predicting two major events in the first round of this years draft; one, maybe two, quarterbacks will go in the first round, and there will be a bevy of first round trades. And you'll be surprised who I have as the first quarterback off the board.
As far as the Ravens go I expect them to move one way or the other, but definitely somewhere. I can see them trading up three spots to nab Ha Ha Clinton-Dix, or trading into the top ten to grab a falling Taylor Lewan. Or I could see them trading down a few spots if the value isn't there for them at 17.  Either way, I see the Ravens being serious movers and shakers.
The Draft From the Eyes of Babes
Round 1:

1. Houston- Jadevon Clowney:  As the draft gets closer this seems more and more obvious. Clowney is a special talent and you don't want to be known as the team who passed on him. See Sam Bowie and the Portland Trailblazers.

2. This will be the first trade of the draft, as St. Louis is putting up a huge smokescreen. Do  they really love Buffalo pass rusher Kalil Mack? They may, but others do more.  I have Atlanta trading up to two spots to get Mack, giving the Rams their 1st, 2nd and 4th round picks in return.

3. Jax-I have the Jags staying pat here and selecting big time play maker Sammy Watkins. Head Coach Gus Bradley has made it evident he wants to build this team back up through a strong defense, a solid running game, and a deep play action passing game, and Watkins gives them the ability to hit the home run on play action deep balls.  Or they can just hand him the rock like this….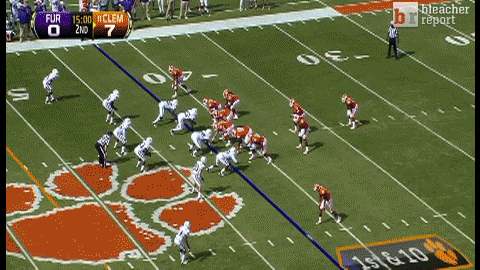 4. At this spot, the Browns desperately want to get out and trade back. They love Derek Carr but can't take him this high, and they already have the game's best left tackle so a tackle here makes no sense, as you can't take a right tackle at four. So they take a modest deal from Tampa to move back to seven in exchange for Tampa's third rounder this year, and a fourth rounder next year. Tampa comes up and has their pick of the litter of left tackles, and they select Greg Robinson of Auburn.

5. Oakland also likes Carr but won't reach for him, so they stand pat and take a left tackle in Jake Matthews.

6. The Rams at six are blown away by the Giants offer to move back to 12 in exchange for their 2nd and next year's third to take the last elite tackle on the board in Taylor Lewan.

7. Another blockbuster, Dallas answers Cleveland's prayers and packages up their 2nd and next year's third to get ahead of wherever Chicago was looking to trade up to, and selects Aaron Donald. The defensive lineman out of Pitt might be the fastest rising player in this draft and will most certainly be a highly coveted player come May 8.  He looks like ESPN's Michael Smith plus 100 pounds….

8. At eight Minnesota resists the urge to take a signal caller, which would only be reminiscent of past mistakes, and they instead take the pass rushing linebacker Anthony Barr out of UCLA. Look for Minny to possibly trade back into round one to go QB, but word around the campfire is they really like Zach Mettenberger later in the draft. That would make a lot of sense for a team who has Matt Cassell to bridge the gap for a developing passer like Mettenberger, who needs time to learn.

9.  I have Buffalo staying put at nine and selecting a bona fide number one receiver with prototype size in Mike Evans. They will sniff around at the possibility of trading up for a pass rusher, but ultimately end up happy landing Evans.

10. Detroit at ten needs some serious secondary help, and they get it by selecting corner Justin Gilbert out of Ok State.

11. Tennessee replaces the loss of Alterraun Verner with future stud corner Darqueze Dennard. The Titans are going to be disappointed by the fact that they lost out on a top flight tackle and pass rusher. I think this could also be a spot where a dark horse prospect gets reached for a la Bruce Irvin a few years ago and DJ Hayden last year. Watch out for that mammoth guard SU-A-Filo here as well.

12. Two shrewd moves by the Rams leaves them lush with extra picks and sitting with 12 and 13 at their disposal. At twelve they get their guy in safety Ha Ha Clinton-Dix to step right in and improve a lacking secondary.

13. Guess what the Rams have become experts in? That's right trading back and they give it a whirl again, this time with the Dolphins who are desperate to land a starting offensive lineman. Miami knows they need to get ahead of Baltimore to get Zack Martin, and that's exactly what they do. St Louis gets a third and fourth rounder this year in exchange for moving back six spots.

14. Chicago, who lost out on Aaron Donald, decides to go with Timmy Jernigan out of Florida State to bolster their front four. The Bears were historically bad against the run last year, so look for that to be their focus early in the draft.

15. The Steelers sit at 15 here with Eric Ebron's name on the card, but the Jets make them an offer they can't refuse. Pittsburgh knows they need to rebuild an aging defense rather than purchase a luxury item in Ebron. The Jets send their third and fifth round picks to the Steelers to move up three spots, also getting ahead of Baltimore, to nab Ebron.

16. Cleveland now sits in Dallas' spot, and they are in prime position to take the QB they love in Fresno State's Derek Carr. Yes I have Carr as the first QB off the board, as the general consensus is that teams are really cooling on the perceived top three QBs in Bortles, Bridgewater, and Manziel.  Insanity in Cleveland!  Is Kevin Costner still GM?

17. The Ravens are in a tough spot here. They like defensive lineman Ra'Shade Hageman, but decide to pass on him and pick up another third round pick by moving back four spots to 21. The Green Bay Packers come up to select linebacker CJ Mosley out of Alabama.

18. Pittsburgh replaces Emmanuel Sanders with LSU playmaker Odell Beckham.  Check out this one handed grab of a kick….

19. The Rams didn't see value in any receivers at 13 so they traded back here to select USC wide out Marqise Lee.

20. Arizona is loving the fact that they stood pat and still get Darnell Dockett's eventual successor in Hageman out of Minnesota.

21. The Ravens are happy to get much better value at 21 and select Kelvin Benjamin of Florida State. Benjamin can play in three and four receiver sets while he learns under the Smiths and hones his route running skills.

22. Philly takes the younger version of Desean Jackson in Oregon State receiver Brandin Cooks. Cooks caught over 120 balls last season alone.

23. Kansas City saw their offensive line get looted this offseason with the loss of three starters. They try and claw back by taking the best lineman left on the board in UCLA guard Xavier Sua-Filo.

24. Cincinnati needs a corner desperately and local product Bradley Roby makes perfect sense here.

25. San Diego chooses to bolster their interior defensive line with Fighting Irish nose tackle Louis Nix.  Big Lou!

26. Cleveland decides to pair top corner Joe Haden with TCU product Jason Verrett.

27. The Saints need help on the pass rushing front, and Dee Ford fits the bill perfectly.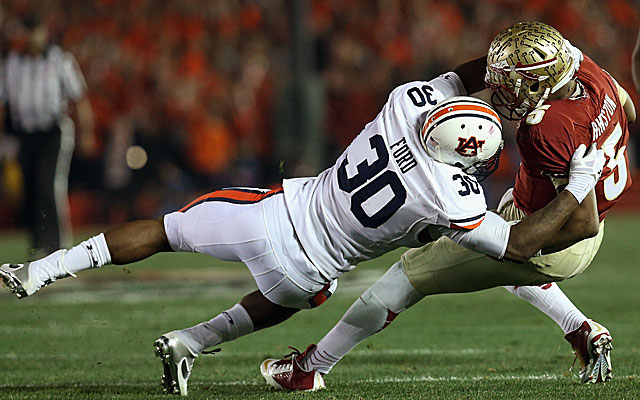 28. Carolina desperately needs multiple receivers in this draft, so they are forced to reach for LSU wide out Jarvis Landry.

29. The Pats are always movers and shakers in the draft so I honestly don't believe they'll be selecting here whether they move up or down. But if they do stay put I have them taking Notre Dame defensive lineman Stephon Tuitt to play the five technique.

30. The Niners are looking for a corner to step in and contribute in the nickel package, and Kyle Fuller is the man for the job. They need somebody who can follow Percy Harvin all over the field.

31. Denver sees the opportunity to add another pass rusher in outside linebacker Ryan Shazier. He can learn under the aging DeMarcus Ware while spelling him in certain situations to keep Ware fresh.

32. Seattle takes the most talented player left on the board in Missouri pass rusher Kony Ealy to groom as the eventual replacement to Michael Bennett.