Trick or treat this weekend, but we're not on the hunt for candy, babes.  We're way more interested in burying your book instead.  So grab that old lantern, don that creepy old cloak, find a suitable location, and start digging.    Hopefully, condos never end up being built over your chosen bookie burying site…
As always, we begin with the Babes.
Babes (Season 8-9)
I feel great about two games this week.  The Vikings are public darlings this week, as they have covered every game since week one.  I'm fading them on the road at Chicago this week laying a point.  The Vikings are 14-26 ATS in their last forty outdoor road games.  Also John Fox has a great track record coming off a bye, so I'm rolling the Bears.
I also love the Steelers this week at home against the undefeated Bengals.  This is an Andy Dalton fade here, as I just don't see them continuing this winning streak.  Big Ben comes back with a bang and out guns Dalton in a shootout.
Zach (Season 10-11)
Rough stretch for me as of late, as I've posted only a consistent 1 out of 3 these last few weeks. Not good. But I've got three here that'll turn my record into a winning one pretty quick.
Browns +6 over Arizona- The Cardinals are a top 5 team in the league, and the Browns are a consistent joke. But coming off of a Monday night game, and traveling across the country to play a 1 pm game in Cleveland isn't an easy task for AZ. I think the Cardinals squeak out a win, but the Browns cover the spread.
Chargers +3.5 over Ravens- Can't trust the Ravens, and that's the basis for this pick. Until the Ravens can prove they can win a game, much less by more than a field goal, I'm picking the other team.
Colts +7 over Panthers- With everyone down on the Colts, and high on the Panthers, I think this line is set for Indy to steal one. People love to overreact when a team is down, and when a team is up, and I think Vegas set this line to get people to pick the Panthers at home. With that, I'm feeling a Colts cover.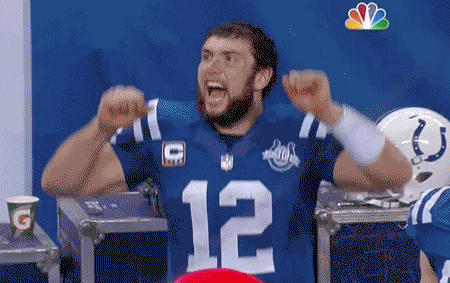 I've been on an absolute tear, going 6-0 over the last two weeks and 12-3 over the last five weeks. My picks are so hot that I'm currently typing on a flame retardant keyboard. Just laughing to the goddamn bank like I'm The Million Dollar Man.
The Game: Cincinnati Bengals (-1) at Pittsburgh Steelers
The Pick: Steelers
I refuse to believe that we live in a world where Andy Dalton is a top-flight quarterback and the Bengals are a dominant team. Sitting at 6-0 SU and 5-0-1 ATS, Dalton and the Bengals are due for a clunker, and I'm predicting that it's going to happen this week. Ben Roethlisberger is returning to action, and it's legitimately frightening to imagine what their offense is capable of now that they finally have all of their weapons on the field. The Steelers have also owned the Bengals over the years, going 8-2 ATS and SU in their last 10 games against them (Odds Shark). Pittsburgh's going to get it done this Sunday, even if Dalton whips his team into an frenzy with one of his trademark speeches.
The Game: Minnesota Vikings (-1) at Chicago Bears
The Pick: Bears
I know, I know, it's weird for me to pick the Bears after I've practically been the fucking president of the Vikings fan club. Over the past two weeks, I've done nothing but praise Minnesota, and they've done nothing but cover both games for me. I'm just worried that they're playing over their heads, as they're currently the 5th worst team in football according to DVOA (Barnwell). Chicago's 30th in DVOA, but they're coming off a bye and they have homefield advantage. The Bears also have a history of kicking Minnesota's teeth in, going 8-3 ATS the last 11 times they've played the Vikings and 10-2 ATS the last 12 times they've played them in Chicago (Odds Shark/Bell). Look for the Bears to win a close one and for little Ditkas everywhere to rejoice. 'Tis the season, babes.
The Game: New York Jets (-3) at Oakland Raiders
The Pick: Jets
I detest laying points on the road, but I really love this matchup for the Jets. The Raiders' offense has benefited tremendously from playing a soft schedule. The only two teams that they've faced that are currently in the top half of the league in scoring defense are the Bengals (12th) and the Broncos (1st). The Raiders lost both of these games by a combined score of 49-23, which is great news for the Jets and their 4th ranked defense. Plus, Oakland has a nasty habit of falling flat on their face after a big win. The last 11 times the Raiders won outright as an underdog, they've gone 1-10 ATS and SU the following week (Cole). The Jets are going to cover with ease, but at least the mannequin beer bongs will be flowing in the parking lot for Raiders fans.
 Seabass ( Season 14-7-1)
A perfect 4-0 last week as the train keeps rollin'.  With the whiff of crisp cash floating through the brisk autumn air, I'm Vegas excited….
Let's go, baby!
Game:  Giants @ Saints (-3.5)       Pick: Saints
I'm not thrilled about the hook, but I'm kinda believing in the Saints.   They won't beat any elite teams, mind you, but they are playing good football.  There's no analysis here, just a feeling that the Saints stay hot and the Giants tank it on the road.  Besides, Eli's been on a crash course back to earth the past two weeks and his face is looking like this a lot this October….
Game : Green Bay  (-2.5) @ Denver      Pick: Denver
Manning's arm is a noodle and the Broncos are all smoke and mirrors.  That's what everybody is saying.  Maybe on offense they are, but their defense is a nasty, nasty unit.  With a defense like that, I'll take points at home every time.    Ugly and scary money counts too, babes.
Game : 49ers @ Rams (-8)      Pick: Rams
The 49ers defense is a mess and the Rams are a new team with Todd Gurley running through opponents like the Headless Horseman galloping through Sleepy Fucking Hollow.  Boo babes, eight may be a lot of points between division foes, but I just don't see the Niners hanging with the Rams in St. Louis.
Happy Halloween and good luck to all!