Turkey week.  Get digested and take in some wagering and football action- it's fun for the whole family.  And since the greatest holiday ever invented is over, and since the wars of black Friday have been fought, we can officially turn our attention to Christmas.  Winning big means bigger gifts for junior, babes.  Why depend on a holiday bonus, when the NFL offers so many investment opportunities?  Cue the Christmas Vacation…..
Babes (Season: 9-14)
….no word from the Babes for two weeks.
Zach ( Season: 15-18 )
I'm picking four this week cause I need to bounce back hard.
Patriots -3 over Broncos- I hope I'm wrong, cause there aren't many losable games left on the Pats' schedule, and this is one of them, but until they lose, it's crazy to think of them losing.
Ravens +3 over Browns- No way the Ravens lose to the Browns twice in one season, right?
Vikings +1 over Falcons- The Falcons are playing bad football, and are without Freeman. Vikings get a road win here.
Jaguars -4.5 over Chargers- The Jaguars had a week and a half to prepare for this game, and I love the Jags as hard as I can love a really bad random team. All in.
Toby (Season: 18-15 )
I'm coming off an ugly 1-2 week, but that was a total fluke. I'm not worried at all about collapsing down the stretch and finishing below .500. My confidence is sky high, babes.
The Game: Arizona Cardinals (-10.5) at San Francisco 49ers
The Pick: 49ers
I don't give a fuck how lopsided this matchup appears on paper, I'm grabbing a home underdog getting 10.5 every single time. The Harlem Globetrotters could be laying 10.5 at the Washington Generals and I'd still take the points. Since 1989, double-digit road favorites have gone 58-77 ATS (Bonesteel). The 49ers are also a solid 3-2 at home this season, and you know damn well this maniac is going to have his team fired up for a chance to upset a division rival.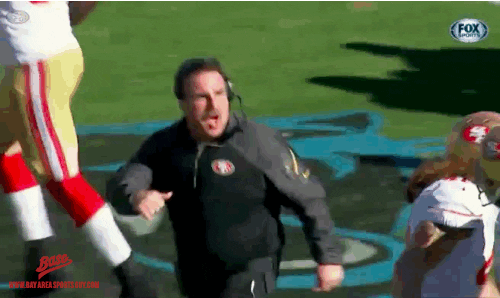 The Game: Pittsburgh Steelers at Seattle Seahawks (-3.5)
The Pick: Steelers
These 3.5 points feel like an early Christmas present, as I think Pittsburgh's going to win this game outright. The Steelers are 6-2 SU coming off a bye since Mike Tomlin took over, and their pinball offense is going to light up this overrated Seattle defense. I'm tired of everyone living in the past when it comes to the Seahawks. This is a very average 5-5 football team that's only gone 2-3 ATS when playing with their vaunted homefield advantage. If you want to crown them, then crown their ass, but me and Denny Green will be laughing all the way to the bank.
The Game: New England Patriots (-3) at Denver Broncos
The Pick: Broncos
It's crazy that one of the greatest quarterbacks of all-time was holding back the Broncos, but that's exactly what was happening in Denver. Peyton Manning was playing like he was the titular role in Weekend at Bernie's, so it's hard to imagine that Brock Osweiler's gigantic ass won't continue to be an upgrade under center. With Denver being loaded with playmakers on both sides of the ball, it won't take a superhuman effort from Osweiler to cover against a severely banged up New England squad. Step aside, Peyton, it's the Ozzy show now.
Seabass  (Season: 22-11-1 ) 
Another 3-0 week last week and I'm officially beating the NFL.  I'm a flame-throwing, monster truck driving, money grubbing sum bitch.
But you can't be cocky in this game.  Gotta stay humble and hungry.  Hell, even Jimmy The Greek had bad days.  And weeks.  And years.
Here we go….
Game: Vikings @ Falcons (-1)           Pick: Vikings 
Atlanta is showing their true colors after a great start to 2015.  That true color is a light shade of doo-doo brown.  They stink and they just aren't a very physical football team.  Meanwhile the Vikings have played better football lately.  True, they can't beat the Packers, even when everybody else is beating the Packers, but we won't hold a little inter-divisional Lex Luther game against them.  Look for the Vikings to grind out a win late.
Game: Bucs @ Colts (-3)        Pick: Bucs
Tampa has come into their own and Jameis 'Crab Leg/No Means Yes" Winston is playing like the number one pick that he is.  And the Colts just aren't very good.  Throw in a Muscle Hamster and three points looks quite bodacious.  Take and we will make.
Game: Bills @ Chiefs (-6)      Pick: Chiefs
Should the Chiefs be giving six points to anybody?  Does Andy Reid even like Kool-Aid?  Is it me, or does Rex Ryan look better fat?  Only one of these questions will be answered on Sunday, and I think the answer is yes.  The Chiefs should give six at home to the Bills.  Buffalo blew their load last week and still couldn't beat the evil empire, so the wind is out of the sails.  Tyrod Taylor is banged up, and the Bills just aren't that good.  Plus, the Chiefs are playing possessed football.  If the Chargers couldn't score on this K.C. defense, will the Bills?  No way.  Chiefs in a laugher.
Game: Patriots (-2.5) @ Broncos        Pick: Broncos
A good defense at home getting points- it's an automatic play. New England is banged up and their offensive line is swiss cheese.  Brady looked harassed and harangued last week and the Broncos will tear that make-shift Pats o-line to pieces.  Brock vs Brady and Brock will do enough to get the job done.  The Broncos have been looking forward to this all season.  They get it done as the barking home doggie.
Good Luck to all!