It's already Week 4 and times are tough at the Wire, babes.  Nobody is ahead of the game except for Seabass, and he's barely beating the vigorish at 5-4.  Overall our crack wagering crew is a combined 15-20; which seems more indicative of a crew that's on crack as opposed to being crack.
….the shit be calling me, man……
Babes (Season ATS: 3-5)
Babes has disappeared, apparently he's high above the Atlantic in a WP-3D Orion, tracking Joaquin.  A cryptic text saying this is all we've received from Babes in the past 5 days:
Oakland -3
Indy -8.5
Looks like his picks to me.  So there ya go, folks.
Zach (Season ATS: 4-5)
After going 2-1 last week, I'm back on track. Week two's in the past, and we're going full steam ahead.
 Cincinnati -4 over Kansas City- The Bengals are looking like the second best team in the AFC, and they're gonna be tough to beat this year, especially at home. The Chiefs are coming off a short week after getting thumped by the Packers, and going to lose by at least a touchdown on the road.
Carolina -3 over Tampa Bay- Normally I don't like road favorites, but despite not having any weapons on offense, the Panthers look like they're for real this year. Their defense shouldn't allow more that 17 to Jameis, and the Tampa defense is way to weak to hold Cam Newton and the offense to under 20.
New York Giants +5.5 over Buffalo- No real rationale here other than I think that this game stays close. People are high on the Bills and down on the Giants, and Vegas knows this. Giants lose the game but cover the spread.
Toby (Season ATS:  3-6)
After a rough two weeks to start the season, I was finally able to end up in the black with a 2-1 record. As everybody knows, the first winning week is always the hardest. Now that the monkey's off my back, the momentum is going to snowball. I'm getting ready to drop an avalanche worth of winners in the upcoming weeks. Bundle up, babes.
The Game: New York Jets (-2) at Miami Dolphins (in London)
The Pick: Jets
I'm ecstatic to lay less than a field goal with the Jets in this matchup. Not only are they a top to bottom better team than the Dolphins, but they're also much more prepared for a trip across the pond. It's been reported that the Jets are bringing 350 rolls of toilet paper to London because those silly Redcoats use a thinner version. If there's one thing that I've learned when gambling over the years, it's to always bet against the team with raw buttholes.
The Game: Philadelphia Eagles (-3.5) at Washington Redskins
The Pick: Redskins
I already love home dogs, so Vegas is practically giving away money with this line. Last season, the Skins only lost by three in Philly, and they beat the Eagles 27-24 at home. And in one of the most surprising stats of the young season, Washington actually has the best yardage differential in the NFL, as they've outgained their opponents by 283 yards through three weeks. Add the fact that the Skins are coming off extra rest from a Thursday night game and Chip Kelly's in for a long day of headset licking.
The Game: Green Bay Packers (-9.5) at San Francisco 49ers
The Pick: 49ers
It's all about going against the grain with this one. Everybody's all over the Packers after their impressive win over the Chiefs, and everybody's cracking jokes about the 49ers after their disgraceful loss in Arizona. That's fine by me. I'll gladly take 9.5 points against a team that has to travel to the West Coast on a short week. Even though it probably doesn't mean a goddamn thing, San Fran has beaten Green Bay four straight times. The Pack has also given up the most rushing yards to opposing quarterbacks since the start of last season, which should be great news for Colin Kaepernick.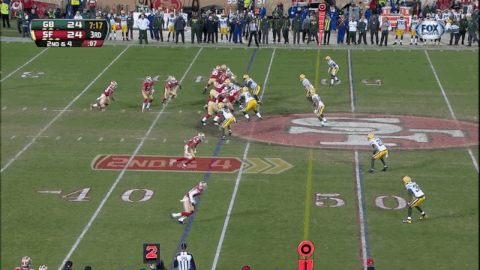 Seabass (Season ATS: 5-4)
After blitzing this shit and busting out a 3-0 in Week One, I've allowed the mysteries and pitfalls of the NFL to get the best of me to the tune of back-to-back 1-2 weeks.  It's gross.  Time for a glass of chilled Chardonnay, a warm bubble bath, and an evening with Stella so I can get my groove back.
Game: Texans @ Falcons (-6.5)       Pick: Falcons
Julio Jones is playing historic football.  Techmo Bowl type stuff.  Meanwhile the Texans are distinctly average.  I like historic over average.  Sometimes it's that simple babes.  Give me a cover, or give me death!
Game: Raiders (-3) @ Bears       Pick: Raiders
I may just bet against the Bears for the rest of the season.  Home, away, on the moon, it doesn't fucking matter, because they are utterly abysmal.  Besides, the Raiders are playing good football.  Carr, Cooper, and Murray are a young and talented trifecta.  I know that the Bears are a home dog, and I hate road favorites, but I think this line is too low.  Raiders by at least a touch.
Game: Eagles (-3) @ Redskins            Pick: Redskins
Agreeing with Toby on football wagering is just an awful idea, but I love the Redskins in this spot.  The Eagles are vastly overrated and even though their defense is playing well, Sam Bradford looks like dish rag with a pole stuck up its ass.  I've never been a fan of Chip Kelly's college offense and without a deep threat the Eagles remind me of Napolean Dynamite pulling sweet jumps.
Good luck to all!