The Ravens (7-4) are coming home after a huge win in New Orleans to face the Chargers (7-4) in a game that could have some serious AFC Wild Card implications down the line. Both teams would love to extend their records to 8-4, and gain a tie-breaker advantage over their opponent. While the Ravens appear to be trending in the right direction, the Chargers look out of sorts. After a sizzling 5-1 start to the season, the Chargers have gone 2-3 over their last five games. They have won two straight, but these were two home victories over the Raiders and the Rams by a combined total of 10 points. It's time for the cream to rise to the top. Let's set the fucking tone, Ray!
2014 Stats (per game)
Points – Baltimore: 26.8, San Diego: 22.3
Points Allowed – Baltimore: 18.9, San Diego: 19.6
Passing Yards – Baltimore: 240.1, San Diego: 248.2
Rushing Yards – Baltimore: 132.4, San Diego: 89.5
Passing Yards Allowed – Baltimore: 264.6, San Diego: 221.3
Rushing Yards Allowed – Baltimore: 88.3, San Diego: 108.8
Turnover Differential – Baltimore: 0.09, San Diego: 0.09
Ravens Injury Report
WR Michael Campanaro – Questionable (Thigh)
Chargers Injury Report
NT Ryan Carrethers – Out (Elbow)
ILB Andrew Gachkar – Doubtful (Knee)
G Ryan Miller – Questionable (Groin)
DT Tenny Palepoi – Questionable (Non-injury related)
Ravens' Offense vs. Chargers' Defense
Overall, the Chargers' defense is very solid when it comes to defending the pass, but they have struggled in two key areas related to pass defense: sacking the quarterback and intercepting passes. On the season, the Chargers are 29th in sacks and tied for 26th in interceptions. That's great news for Joe Flacco, who's already a much better quarterback at The Big Crab Cake. In five home games this season, Flacco has thrown three interceptions and been sacked five times. In six road games, Flacco has thrown five interceptions and been sacked 10 times. Reigning AFC Offense Player of the Week, Justin Forsett, should also find success against an average Chargers' front seven. San Diego is 21st in yards per carry allowed and tied for 11th in rushing touchdowns allowed. Forsett's 5.8 yards per carry is 1st in the NFL among running backs, and he's scored four rushing touchdowns over his last two games.
The Chargers' best player on the defensive side of the ball is safety Eric Weddle. He leads the team with 77 tackles, and is the man to watch in the Chargers' secondary. Up front, Corey Liuget leads the Chargers with 3.5 sacks.
Ravens' Defense vs. Chargers' Offense
Philip Rivers was playing terrific football earlier in the season, as the Chargers ran out to a 5-1 record. Over those six games, Rivers was averaging 292.7 passing yards, and he threw for 15 TDs to just two INTs. Over his next five games, Rivers averaged 215.8 passing yards, and he threw for seven TDs to seven INTs. Rivers' biggest weapons in the passing game are Keenan Allen and Antonio Gates. Allen has disappointed fantasy owners everywhere this season with his underachieving sophomore campaign, but he's still a very talented player that's coming off a 6/104/1 performance against the Rams last week. Gates had a blistering start to his season, reeling in nine TDs through his first eight games. Lately though, Gates' production has slowed down dramatically. Over his last three games, Gates is averaging 24.7 receiving yards with zero trips to the end zone. I'd imagine that Gates will see a steady diet of Will Hill in coverage. Hill's excellent play since his return has been one of the few bright spots for the Ravens' porous secondary.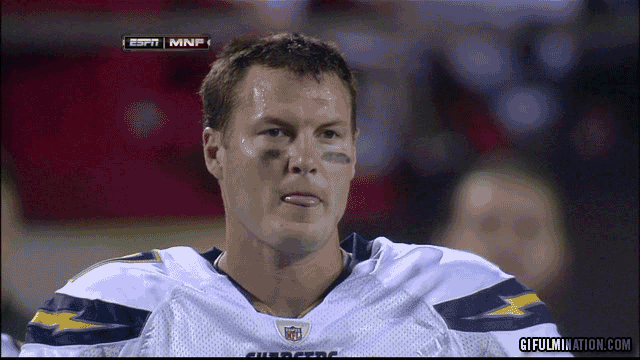 While there's a good chance that the Ravens will have a hard time with San Diego's passing attack, they should have little trouble shutting down their running game. On the season, the Chargers are 30th in the league in yards per carry and tied for last in rushing touchdowns. These putrid numbers were mostly accumulated with the currently healthy Ryan Mathews on the sidelines, but I don't think he'll have much success today behind his overmatched offensive line. The Ravens boast one of the best front sevens in football, while the Chargers are starting Chris Watt at center, who's a fourth-string rookie.
Rapid Fire Facts
• Elvis Dumervil is on pace to record slightly over 18 sacks. That would break the single-season franchise record of 15 set by Peter Boulware in 2001.
• Forsett has averaged 147 rushing yards over his last two games. He's now only 97 rushing yards away from 1,000 for the season.
• Flacco is 8-for-9 this season converting rushes on third- or fourth-and-short (Meoli).
• After being held catchless against Cincinnati, Torrey Smith has averaged 78.7 yards receiving and caught two TDs over his last three games.
Let's go Ravens!
cover pic: Getty/CBS Sports