After what seemed like endless talks between the Orioles and Grant Balfour, the deal is finally done, and Balfour will be closing out the 9th inning for the Birds. The Orioles backed up that move trading Danny Valencia to KC for outfielder David Lough.
I wasn't crying when Jim Johnson packed his bags. Now that we have finally secured out new closer, the team is in a better place, both on the field, and financially. Balfour's 2 year deal for $15 million secures him for a year longer than JJ. The more reasonable price  allowed the Orioles to add depth to the pen with reliever Ryan Webb as well. Closer for closer JJ  had more total saves, but Balfour has out pitched him every way you look at it. Balfour closed 93% of his opportunities last year, compared to Johnson's 85%.  The stats are endless, but whatever JJ can do, Grant can do better.  Balfour also brings a level intensity to the 9th inning that could be a good spark  for everyone out in the bullpen.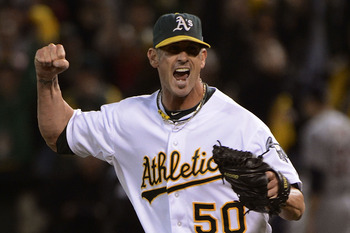 In limited games for the O's last year Danny Valencia swung a hot bat, ending the season with a .304 batting average. He also found a way to come through in the clutch. There was some potential for Danny to keep swinging that bat for the Orioles as an off and on DH this coming season, but you can't get something without giving something up. The Orioles traded Valencia to Kansas City for outfielder David Lough. Valencia is a 3rd baseman. Not only do the Orioles have a stud 3rd baseman in Manny Machado, but they also just added rule 5 pick 3rd Baseman Michael Almanzar. Buck compared Almanzar to Valencia as having a similar skillsset, only Almazar is younger. We all know how much Buck and Dan D love their rule 5  picks. So with depth at 3rd base, and holes in the outfield, adding Lough makes sense. Lough is a young outfielder who in just under 100 games last year batted .286. He's also a plus defender and can play anywhere in the outfield. Not a big splash, but a good add. Hopefully this is the beginning of the Orioles off-season moves, not the end.