The Birds are officially back on the road for a two-game series against the Mets. The O's are coming in hot, as they're winners of five of their last six games. The starting pitching has been the catalyst for the Birds' winning ways. Over their last six games, the starters have delivered six quality starts and a 1.91 ERA (Kubatko). While the O's are looking sharp, the Mets have cooled off dramatically after their blistering start. Since the Mets' 10-game winning streak came to an end on April 24, the Mets have gone 3-7. The trend is your friend, babes!
The Breakdown
Baltimore Orioles (12-11) vs. New York Mets (16-10)
Last 10 Games: Baltimore's 5-5, New York's 3-7
Runs: Baltimore's 8th, New York's 18th
Home Runs: Baltimore's 7th, New York's tied for 23rd
Batting Average: Baltimore's 3rd, New York's 22nd
On-Base Percentage: Baltimore's 5th, New York's 21st
Team ERA: Baltimore's 24th, New York's 3rd
Starter ERA: Baltimore's 22nd, New York's 3rd
Bullpen ERA: Baltimore's 19th, New York's 6th
Fewest Errors Made: Baltimore's tied for 14th, New York's tied for 18th
Baltimore's Injury Report
P Wesley Wright: 15-day DL (left shoulder)
C Matt Wieters: 15-day DL (right elbow)
INF Ryan Flaherty: 15-day DL (groin; currently on rehab assignment)
INF J.J Hardy: 15-day DL (left shoulder; currently on rehab assignment)
INF Jonathan Schoop: 15-day DL (right knee)
New York's Injury Report
P Vic Black: 15-day DL (neck)
P Jerry Blevins: 15-day DL (left forearm)
P Josh Edgin: 60-day DL (Tommy John; out for season)
P Jenrry Mejia: serving 80 game suspension for PEDs
P Rafael Montero: 15-day DL (right shoulder)
P Bobby Parnell: 15-day DL (right elbow)
P Zach Wheeler: 60-day DL (Tommy John; out for season)
C Travis d'Arnaud: 15-day DL (right hand)
INF David Wright: 15-day DL (right hamstring)
Tuesday, May 5 at 7:10 p.m. on MASN 2
RHP Bud Norris (1-2) vs. RHP Bartolo Colon (4-1)
Norris' Stats: 4 GS, 17 IP, 12 Ks, 12.18 ERA, 2.00 WHIP
Colon's Stats: 5 GS, 32.2 IP, 25 Ks, 3.31 ERA, 0.98 WHIP
Norris' numbers are still ghastly on the season, but he did throw the ball well in his last start against Boston. Norris earned the win after giving up three runs on seven hits and three walks while striking out two over 6.2 innings, and he was one pitch away from throwing seven shutout innings. Norris will be pitching on eight days rest, which has traditionally meant trouble for the right-hander. In 27 career starts on six or more days rest, Norris is 9-12 with a 5.27 ERA. Norris has struggled in interleague play over his career, going 4-6 in 14 starts (15 appearances) with a 5.33 ERA. Norris' numbers against the Mets are ugly, but he also hasn't faced them since 2012. In five career starts, Norris is 1-1 with a 4.68 ERA and 1.29 WHIP, and he's struck out 30 batters over 32.2 innings.
The ageless wonder, Bartolo Colon, will be taking the bump for the Mets on Tuesday. Colon's pinpoint control has helped him get off to an excellent start this season. He's walked just one batter in his first 32.2 innings. The 41-year-old vet doesn't mess around when it comes to attacking hitters. He's thrown a fastball 85.6% of the time this season, with 50.7% of his heaters being of the two-seam variety. He's going to pound the zone, and make the O's put the ball in play. Colon's had a lot of success against the Birds over his career, going 12-8 in 26 starts (27 appearances) with a 3.25 ERA and 1.33 WHIP. Colon's also been solid in interleague play, posting a 24-17 record with a 4.16 ERA over 50 career starts. At least he's not much of a threat at the dish.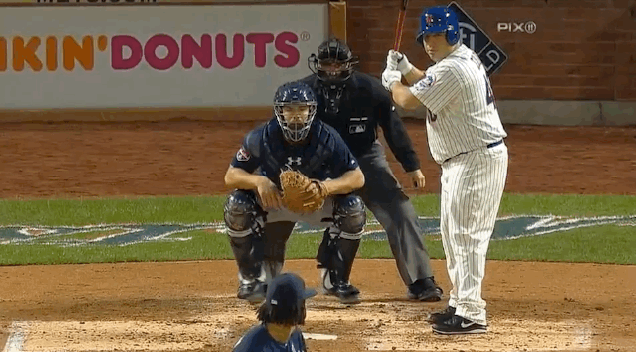 Good News: Adam Jones is 8-for-26, Chris Davis is 4-for-10 with a HR, Travis Snider is 3-for-9, Delmon Young is 4-for-8, Everth Cabrera is 2-for-4, and Manny Machado is 2-for-3 off Colon. Daniel Murphy is 2-for-9 with a HR, Ruben Tejada is 0-for-2, and John Mayberry is 0-for-2 off Norris. Jones came in 2nd in AL Player of the Month voting after hitting .400 with 5 HRs, 19 RBIs, and 17 runs scored in April.
Bad News: The O's will have to play without a DH this series, because as everyone knows, watching pitchers flail helplessly at the plate is much more exciting than watching real hitters take their hacks. NL baseball and their sac bunts and double switches can eat a bowl of dicks. Alejandro De Aza is 2-for-9, and Ryan Lavarnway is 0-for-3 off Colon. Michael Cuddyer is 3-for-7, and Kirk Nieuwenhuis is 2-for-4 off Norris. Nelson Cruz was named the AL Player of the Month after batting .322 with 10 HRs, 22 RBIs, and 14 runs scored in April. God, I miss that man.
Wednesday, May 6 at 7:10 p.m. on MASN & ESPN
RHP Ubaldo Jimenez (2-1) vs. RHP Jacob deGrom (2-3)
Jimenez's Stats: 4 GS, 22.2 IP, 22 Ks, 1.59 ERA, 0.79 WHIP
deGrom's Stats: 5 GS, 29.2 IP, 23 Ks, 3.34 ERA, 1.31 WHIP
Jimenez will look to keep the ball rolling on this bounce back campaign. He was filthy in his last start against the White Sox, earning the win after allowing two runs (none earned) on three hits and a walk while striking out six over seven innings. Jimenez will be pitching on six days of rest, and like Norris, Jimenez doesn't seem to enjoy extra rest in-between starts. In 34 career starts on six or more days of rest, Jimenez is 16-11 with a 4.40 ERA. He does seem to enjoy interleague play, though. In 19 interleague starts (20 appearances), Jimenez is 8-7 with a 3.69 ERA. Jimenez has also loved facing the Mets over his career. He's 2-3 in six career starts against the Mets with a 3.40 ERA and 1.21 WHIP, and he's struck out 29 batters over 39.2 innings.
deGrom won the NL Rookie of the Year last season after going 9-6 with a 2.69 ERA and 1.14 WHIP while striking out 144 batters over 140.1 innings. Overall, he's pitched very well this season, but he has been knocked around in his last two starts. In his first three starts, deGrom gave up only two runs in 19.1 innings. In his last two starts, deGrom has surrendered 11 runs (nine earned) in 10.1 innings. deGrom has an impressive arsenal of pitches, as he throws in the mid 90s with a slider, changeup, and curveball. The 26-year-old is 1-2 in three interleague play starts with a 3.79 ERA, despite getting shelled by the Yankees earlier this season. This will be deGrom's first career start against the Orioles.
Good News: Last season, the O's went 12-8 in interleague play. Curtis Granderson is 2-for-11, Cuddyer is 0-for-8, Murphy is 1-for-6, and Tejada is 0-for-3 off Jimenez.
Bad News: The Birds have dropped six straight to the Mets, getting swept in 2012 and 2010. The Orioles have a lifetime record of 9-19 against the Mets, and a 10-23 record if you include the 1969 World Series. Fuckin' Donn Clendenon. Snider is the only Oriole to ever face deGrom, and he's 0-for-3. Anthony Recker is 1-for-2 off Jimenez.
Enjoy the games, and let's go O's!
cover pic: Zimbio/Getty Images
gif: Deadspin
stats: Baseball-Reference