Wheeeeeew babes. Manny Machado may not even need surgery after his horrific looking dance with first base last night in Tampa Bay. The Macho man tore his patellofemoral ligament, which keeps your kneecap from sliding laterally. The Birds are saying 6-8 weeks of rehab and good old fashioned R and R should do the trick, and Manny will be ready for Spring Training. After almost vomiting while thinking about a 2014 baseball season without Manny, I'm very pleased that he'll be alright in just a few months.
How sick of a football weekend was it for Baltimore? Both the Terps and the Ravens looked great at The Bank. The Terps smashed the Mountaineers Saturday, sending their yellow and blue clad minions back to their trailer parks. Randy Edsall has coached this team up and has them playing great football. The recruits keep rolling in and Maryland has already established a nice talent base with guys like Stefon Diggs, Will Likely, Deon Long, Marcus Whitfield, and C.J. Brown, among others.  As rough as his first few seasons were, it seems like Edsall was only doing what was necessary to be successful;  tear down what was here, clean out the mess, and bring in his own people and culture.  It looks like it's working, and if they beat Florida State in 11 days, well, holy shit.
By the way, I love the West Virginia rivalry, and I hope both schools continue it.  WVU fans are what college fans should be, crazy.  WVU took over downtown Baltimore Saturday, in what was supposed to be a "home" game for Maryland.  Two things should be taken from this.  First, WVU travels really well.  Second, we Terp fans need to get our heads out of our asses.  A Maryland event this cool should have sold out, and Baltimore is a big part of Terp country, there should have been more Terps than Mountaineers walking the streets of B-Town Saturday.
In NFL news, the 49ers are drunk, injured, and terrible.  Colin Kaepernick has no weapons around him now with Vernon Davis joining Michael Crabtree on the injury heap. I love Anquan, but without other talent around him he looks very coverable.  I didn't see many tweets lamenting Boldin's departure from Baltimore this week.  Also San Fran's defense looks overrated, the Colts got physical and took them to the wood shed Sunday afternoon.  Plus they will lose Aldon Smith for twenty-eight days, he got popped for another D.U.I and he had some weed in his ride.  Drinky, smokey, drivey equals rehab plus suspension. (I imagine the NFL will suspend Smith.)
The Colts gave away a first round pick for Trent Richardson.  Meanwhile Ahmad Bradshaw, when 100% healthy, might be better.  Bradshaw looked great, running hard between the tackles and busting some big runs to the outside. He also caught 3 balls and has always been a nice receiver.  It will be hard for Chuck Pagano to take carries away from him after this performance.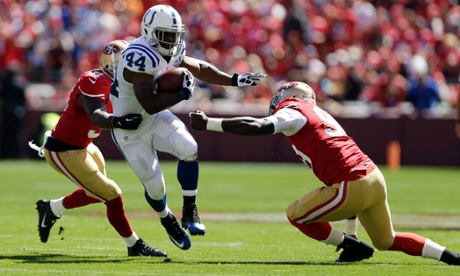 The Giants blow.  I really don't need to expand on this.
The Steelers suck too but they still have a lot of talent.  Leveon Bell is coming back this week, we'll see if that helps them any.  But if they lose to Minnesota, they are done for good.  Wouldn't that just be fucking fanatastic?
The Pistol Offense may already be dying a slow death in the NFL.  All the experts thought it would stay, but I've never believed that it would stick. RGIII's not running, Kaepernick looks lost, and Russell Wilson has been struggling, except when Seattle played shitty Jacksonville.  Defenses catch up quick, and when RGIII got hurt, it changed everything.  Linebackers, safeties, and even lineman are just too big and too fast for quarterbacks to be fucking around and running around like fools.  When QBs get hit, QBs get hurt, and that just doesn't work in pro football.  Take notes on what Peyton Manning is doing right now in Denver, that's pro quarterbacking then, now, and in the future.
I watched a lot of ESPN Monday, there wasn't much said about the Ravens.  Perfect, that's just the way we like it.