by Babes
I'll admit, I don't read as many books as I would like.  But every once in a while I find one I can really sink my teeth into, and Dan Brown's new thriller "Inferno" definitely falls into that category.  You probably have heard of Dan Brown's most popular novels "The Da Vinci Code" and "Angels and Demons," both of which were made into movies starring Tom Hanks as Professor Robert Langdon.  Hanks and company have already signed on to bring "Inferno" to the big screen.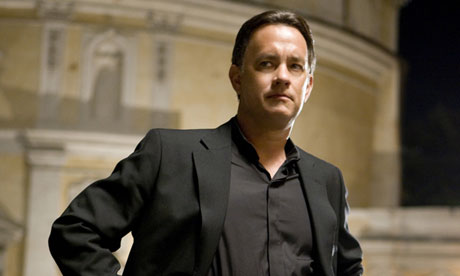 Professor Gump?
  The best thing about Brown's writing is that it's easy to tear through, yet you can read a couple pages, put it down, and pick it right back up later.  He pulls this off with quick 3-5 page chapters that jump around the story at a vigorous pace. It makes for a much easier read then a book with long chapters that you know you have to invest a decent chunk of time into.  To me the short choppy chapters keep me more entrenched in the story. 
  All along the way you're guaranteed to get a nice history lesson in everything from classic art to major historic events, all which Brown manages to seamlessly work into the plots of his stories.  In the case of "Inferno," the classic poem by Dante Alighieri, The Divine Comedy, is the historical and artistic backdrop  that provides the basis of the plot.  Professor Langdon again is the protagonist on the run from God knows who, all the while trying to chase down clues that appear in a modified painting of the classic piece by Sandro Botticelli depicting Dante's levels of hell.  These clues are to point him to a destination where some kind of deadly virus is supposed to be released onto the population.
  Dan Brown has a formula that works when it comes to his novels.  His recurring character Robert Langdon, the Harvard Symbologist, always ends up in a difficult situation where he ends up partnering with some female who has an IQ of around 13,000.  They go on a long journey finding clues and interpreting them to further their cause.  They're always being chased by the authorities, among others, for something that Robert is accused of doing but didn't do.  Despite the repetitive formula, the stories, and the history, vary enough to where the reader stays engrossed in the story. 
  "Inferno" has a message behind it that definitely resonates with the reader about a very real problem in our society.  As the plot twists and turns, the true point of the story is that this existing problem is very real beyond the pages of this fiction novel.  At the same time the book is highly entertaining and easy to read. I recommend this book to even the casual reader, as I picked it up in an airport and tore through the first half without putting it down.