Wow!!  What a win in Happy Valley for our Maryland Terrapins, who beat Penn State 20-19 Saturday. This one started out with fireworks even before kick off. The Maryland captains refused to shake their Penn State counterpart's hands at the mid-field meeting, and Diggs actually received an unsportsmanlike conduct penalty prior to the coin toss. It was a close game from start to finish. Maryland, who never gave up, found a way to get Brad Craddock into position to hit  the game winning field goal with under a minute left on the clock. This was a huge conference win for the Terps, who are now bowl eligible, but this win may mean much for years to come. Coach Edsall said it best in his post game interview "Let the Rivalry Begin."….. and so it has.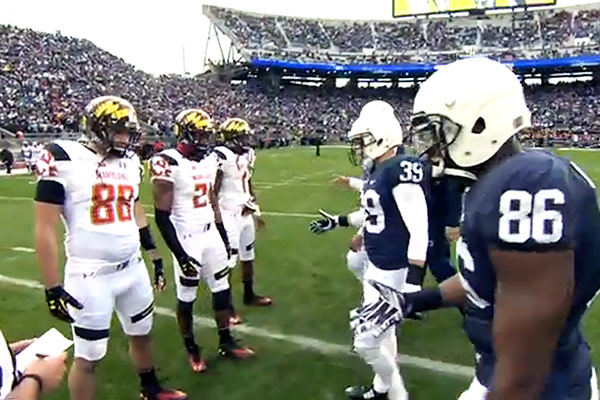 Both offenses really seemed to struggle with simple mistakes. The Terps lost two fumbles and Penn State had three to go along with an interception. It looked to me like the team who was going to win was the one who could get it together and make the least amount of these stupid mistakes. Maryland ,down 3-0 in the first quarter, responded with a Touchdown to tight end P.J. Gallo. Penn State hit another pair of field goals and took a 9-7 lead into halftime.  Late in the third quarter, the Nittany Lions added a touch to take the games largest lead at 16-7. That set up a wild fourth quarter. Maryland added a field goal to make it a 6 point game again. Then the Terps scored a touchdown to take a 1 point lead. Penn State quickly responded with a field goal though and with under 7 minutes left in the game PSU lead  Maryland 19-17. The difference in the game came down to Maryland's Australian kicker, Brad Craddock, who has been so good all season. Craddock, who Edsall called the best in the nation, is perfect on the season and remained that way after burying the go ahead 43 yard field goal with under a minute to play. The Terps defense, who held Penn State to under 50 rushing yards on the day and forced 4 turnovers,  did their job and stopped any last second rally that PSU was trying to get going. It all added up to Maryland coming away with a huge win in Happy Valley. The win makes Maryland bowl eligible, but I am more excited for the long term effects and the spark this win may have given a new BIG TEN rivalry. When Maryland moved to the Big Ten many people asked who would be Maryland's Big-10 rival. Well, we have our answer. We knew, simply based on location, that MD vs. PSU might work itself out to rivalry status. Add in the pregame actions of Maryland, a lot of trash talk and bad blood, and a one point road win, and I think we have something to look forward to for years to come. Coach Edsall feels the game should add some type of trophy as many other college rivalry games have. I don't what kind of trophy he wants, but I do know that in  year one, Edsall fake trophy id going to Maryland. Way to go Terps!!
How about these Standings?
Bg T