What the hell is going on in Florida? The Orioles flew to Tampa last week riding high after a series win at Fenway. The Birds were within wild card striking distance and a playoff run seemed to be coming into focus. Not anymore. The Tampa Bay Ray swept the Orioles back to Baltimore today and to make matters worse, it looks as though the Orioles have lost Manny Machado for an extended period of time as the young third baseman injured his knee while running over first base. Fucking disaster. Losing the season is one thing, but watching this kid get hurt is on a whole other level of shittyness. I can take defeat, but to have Manny's career interrupted like this is just flat-out upsetting. There's no way that this isn't a major injury, and that sucks for Manny, the Orioles, and the State of Maryland.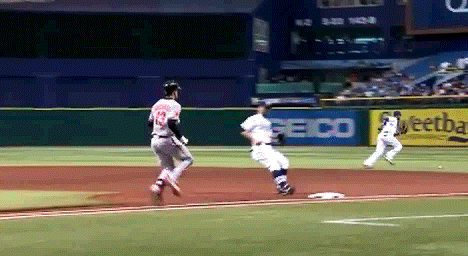 Meanwhile, the season is pretty much over. The Orioles are now 5 games out of the wild card with 6 games left. The sweep did the Birds in, they just couldn't beat Tampa this season. The Birds went 5-11 against the Rays this year.
Alexi Casilla was knocked out on this shallow fly ball to right field. He remained in the game. Nice to see baseball on top of concussion health. Just like in instant replay, the salary cap, and PEDs, Major League baseball is behind the sports' curve. C'mon man. As an Oriole fan, I feel like Joe Maddon himself walked into my home, kicked me in the dick, stole my wife and kid and then burned my house down. Ok, so maybe that's a little much, but even with all that being said, I still hope they beat the shit out of the Red Sox in the playoffs.