Unless you live under a rock, you know that Florida State won the National Championship last night in one of the greatest Championship games ever.  Heisman winner Jameis Winston was rattled and struggled early, warmed up in the 3rd quarter, and then led his team on a game winning drive to bring the trophy home.  Great stuff. Then an excited Jameis Winston gave his post game interview and a piece of every English teacher in America died.
AJ McCarron's mom and girlfriend were all bitter and tweeting and twittering about Winston's speech…..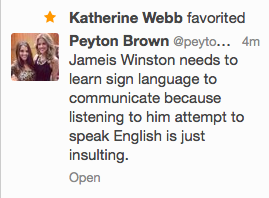 Winston was probably just excited about winning it all and just talked like he was among friends.    But Jameis got the last laugh…
For the people that criticize the way that I talk this is for y'all. The Florida state Seminoles are national champions! That is all.
— Jameis Winston (@Jaboowins) January 7, 2014
But then this shirt got printed and was for sale on "the official online store for Florida State athletics".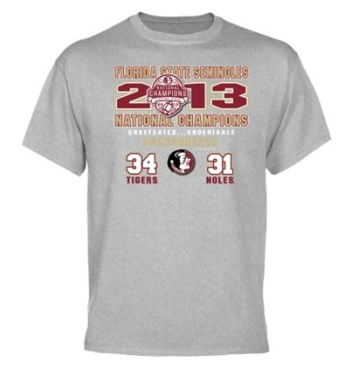 In case you didn't notice, it says Tigers 34  –  Noles 31
C'mon man.