It's week 3 in the NFL and this is when the cream starts rising to the top. In fantasy, it's when your GM skills come into use, as you need to work the waiver wire and plug up the holes on your roster. This is also a great time to throw out some trade proposals around your league to stir the pot a bit. It's a chance to sell high on guys like Rashard Mendenhall, and buy low on the David Wilsons of the world.
We had a trade that shocked the world yesterday as Trent Richardson, the third overall pick in the 2012 draft of the Cleveland Browns, was traded to Indy for a 2014 first round pick. This has enormous relevancy in fantasy because now Trent Richardson will be playing in a good offense with a passing game that will not allow teams to stack the box on him. Except for this week,(tough matchup against San Fran)Richardson is a guaranteed RB1 the rest of the season. Also, you can expect more than the paltry 3.9 yards per carry he was registering in Cleveland.
Getting to this week, here is what I see for quarterbacks.
Start Em:
Andy Dalton-Dalton looked painfully average against Pittsburgh last week, but this week he has Green Bay at home. I love this matchup for two reasons, one being the fact that Green Bay's secondary gives up a ton of yards. In two outings this year they have yielded 400 plus yards to San Fran, and 300 plus to Washington. Secondly, I see Cincinnati having to score to keep up with the high powered Packer offense.
Sam Bradford: Don't look now but old Sammy Bradford is putting up some serious numbers. He nearly brought his team back from 21 down on the road last week, and managed to throw for over 350 yards. This week he'll take on a hobbled Dallas secondary who has been very generous with the amount of yards they've allowed each week. This St Louis offense will be a top ten offense when it's all said and done.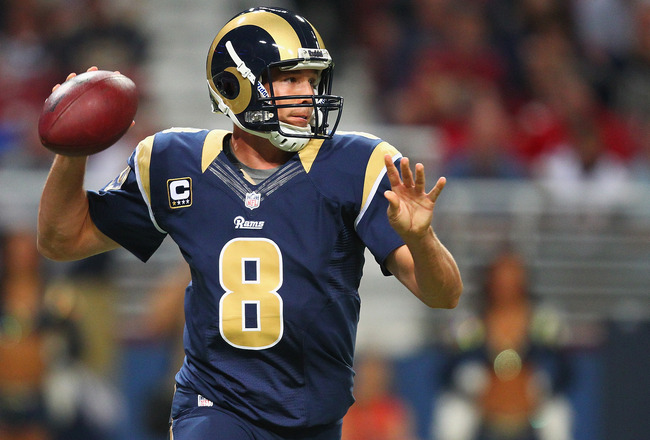 Sit Em:
Tom Brady: I have Brady in two leagues and he is killing me. Well, it's not really him, but his lack of weapons right now. Unless the matchup is perfect, and it's not this week, I'm parking Brady on the end of my bench until Gronk and Amendola come back.
Andrew Luck: I love Luck but this week, but I feel like there are too many other options this week. Indy is traveling to San Fran, who will be out for blood after the ass kicking they took in Seattle last week. So instead of banging your head against a brick wall, roll with a Dalton or Alex Smith and put Luck back in next week.
Running Back Start Em:
Joique Bell- Bell is a monster in PPR formats but even in standard leagues this week I'm giving him the nod. Reggie Bush, if he plays at all, will be limited and Bell should exceed twenty touches. Also the Skins have had a tough job stopping anybody as both running backs they have faced have gone well over 100 yards against them.
CJ2k- This is Johnson's first decent matchup as out of the gate he had to face Pitt and Houston. He still managed almost 100 yards against a tough Houston run defense, and more importantly he carried the ball 25 times. San Diego will be much easier sledding for CJ2K and I expect his first big game of the year.
James Starks-The Packer starting back this week has a tough matchup on the road against the Bengals but I'm still starting him. I see Green Bay having a few chances for goal line carries for Starks with a great chance for him to score. Great flex option this week.
Sit Em:
Arian Foster-I'm saying it again, if you have a decent RB3 play him over Foster. Ben Tate is eating up half his carries, and the Ravens run defense has been extremely stingy thus far with no rushing Td's allowed.
Steven Ridley: Ridley seems to be making one of these lists every week, and this week I'm sitting him. Tampa has a great run stop unit and they don't have to respect the deep ball from Tom Brady.
Giants Running Game-I'm avoiding this situation completely until they get their heads out of their asses and give the damn ball to David Wilson. Brandon Jacobs looks like an offensive guard running the ball but still Tom Coughlin insists on keeping Wilson on the sideline. Can't put him back in until they commit back to him like they know they should.
Wide Receiver Start Em:
Anquan Boldin- I like Q to bounce back this week from a disappearing act in Seattle last week. Kaepernick will look for Q early and often against a vulnerable Colts secondary.
Julian Edelman- Edelman is Brady's only reliable target right now so take advantage of this while you can. He doesn't get too far downfield but he will rack up 8-10 catches with a good chance to score.
DeAndre Hopkins- The rookie came into his own last week with a game winning TD and big catches down the stretch after Andre Johnson went out. Johnson should play this week but either way Hopkins is still a solid play.
Sit Em:
Cecil Shorts- This probably is a good rule to live by this year. Avoid receivers who draw the coverage of one of the following; Richard Sherman, Joe Haden, Patrick Peterson, and our boy Lardarius Webb. Shorts will draw the attention of Sherman this week in the debacle that is going to be the Seattle-Jax game.
Kenny Britt- The guy has all the talent but he just can't put it together. Now he is proclaiming this his last year in Tennessee, and he has an inadequate quarterback delivering the ball.
Any Pittsburgh receiver- I'm avoiding all Steelers until further notice. Their O-line stinks, they have no running game, and Big Ben looks completely out of sync with his receivers. Couple that with the fact that they are facing Chicago's tough corner duo of Charles Tillman and Tim Jennings, and I'm perfectly happy benching Antonio Brown and Emmanuel Sanders.
Tight End Start Em:
Greg Olsen- The Giants have given up three touchdowns to tight ends in two games so far this year. Olsen scored last week and has proven to be Cam Newton's second favorite target behind Steve Smith.
Sit Em-
Vernon Davis- Davis is questionable this week so pay attention to whether he practices or not on Friday. If he is out and your're in a pinch, pick up his backup Vance McDonald. He should get you by with 5-9 points.
Defense Start Em:
Minnesota- I picked up the Vikings D in multiple leagues this week. You can now start playing any defense that's facing the Browns. We'll see what Brian Hoyer has to offer the Browns without the services of Trent Richardson this week.
Sit Em:
Cincinnati- No surprise here, the Bengals have the mighty Green Bay offense coming into to town so find a better option for your D.