There was some late line movement last week but most odds makers had my picks winning two of the three games. Lets keep that rolling into week two.
Game 1  #20 Kansas State @ Iowa State           12 PM Saturday
Line:  K-State -12.5
Chode's Pick: Iowa State Cyclones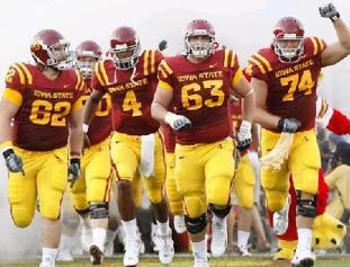 That's a lot of point for K-State to lay on the road,especially in a Big 12 divisional game. Losing their opening game to North Dakota state wasn't a great state for the Cyclones but they are going to bounce back this week and cover a spread for the gambling man.
Game 2 #15 Ole Miss @ Vanderbilt           4:30 PM Saturday
Line: Ole Miss -20.5
Chodes Pick: Vandy
This is going to sound familiar and in line with my thinking in Game 1. Losing to Temple 37-7 was an awful start for Vandy last weekend. But this week will be different. Vandy will dig their heels in and get into a dogfight with highly ranked Ole Miss, and in turn the Commodores will cover the spread.
Game 3 Duke @ Troy                           7PM
Line: Duke -19.5
Chodes Pick: Troy

The Troy Trojans are no powerhouse. But I don't buy the idea that the Duke Football team (not hoops) is going to go on the road and cover damn near 3 touchdowns. Take the Trojans and the points.